Customer analysis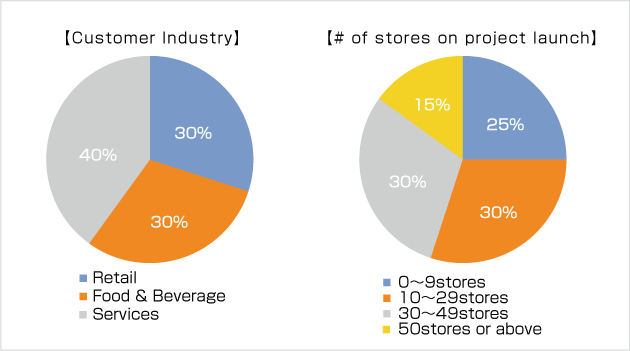 ※As of June, 2016
Exhibition & Seminar lecturer
● Franchise Show, lecturer with State Owned Bank [Nikkei Inc]
● Franchise & Business Launch Fair [Basic Inc]
● Management Seminar for Specialty Stores [BG Plus Media, business society in Japan for non-Japanese owners]
● Franchise Seminar [Kitaden Co., Ltd.]
Advisory Services: Industry map
Extensive customer industries, especially specialty stores. For details, please contact us.
Retail
●
Car sales
●
Eyewear
●
Ticket sales
●
Contact lens sales
●
Fashion
●
Cosmetics and so on
Food & Beverage
●
Ramen
●
Izakaya restaurant
●
Italian restaurant
●
Steak house
●
Café
●
Yakiniku and so on
Services
●
Beauty salon
●
Dental clinic
●
Ophthalmological clinic
●
Pharmacy
●
Nail salon
●
Elder nursing service
●
Sport Gym and so on
Multi-store strategy advisory
If company overlooks Japanese local business trend, company may face difficulty in business. This sometimes leads business withdrawal from Japan market.
Minato Adventure assists non-Japan based companies to develop business with agility.
Minato provides store development solution based on local expertise, industry experience and Minato's original analysis method. Sometimes large consulting company and industry agents does not have this kind of deep-dive approach.
Minato Adventure
・Expertise in retail, food and beverage and specialty store businesses. Deliver high analytical industry customized solution.
・Minato is a store business and multi-stores management expert firm, therefore Minato supports from planning to operation, solo stores to multi-stores management and organization development.
Industry Agents
・Property agents have lots of property information, however they only deliver one-shot deal information without having consistency and continuity.
・Ex-retailer consultant delivers services with less logical approach. Just based on his/her own experience.
Major Consulting Companies
・Major consulting companies have many case studies however regularly they deliver only logic, no industry background and expertise.
・Major consulting boasts broad service lines, however this does not match with small and medium companies because of high fixed fee structure.
Minato approach suits
・Company which plans to develop businesses with refined revenue estimation and planning.
・Company which has 10 stores around and hopes to develop more and more stores with good agility.
・Company which plans IPO in 2-3 years, therefore need more store development and build stable financial backbone.
・Company which runs franchise program and hopes to sharpen their franchise framework.
Steps
【Basic store management analysis】
・Quantitative analysis by each store
・Store visit, check-up
・key success factor identification
*NDA and Advisory contract
【Generate agile store development pattern】
・Multivariate Analysis (Identify revenue estimation pattern)
・Determine store development style (company owned store, franchise)
*Comparison with industry standard P/L.
*Adjust basic analysis with local trend.
【Each Store development, Judge Go/NoGo】
・Go/NoGo decision without including "lose pattern"
・Document creation for banks and financials.
・Rent negotiation and Japanese legal check
Franchise Strategy Advisory
Franchise system is a powerful business developing weapon to open more and more retail stores with high agility.
Minato Adventure assists stores to establish franchiser framework and franchisee development for high speed expansion on market.
Minato's approach suits:
・Company which plans to start franchise business from scratch.
・Company which started franchise model however less successful.
・Company which does not have board director.
Minato Adventure
・Focus on modeling attractive franchise model in the market. With decades of industry experience, Minato Adventure leads franchise framework modeling project.
・Minato assists to solve imminent management issues such as store development, and to build long-term business continuity.
Industry Agents
・Industry agents have some industry experience however agents regularly does not have analytical and fact-based logical approach. It may mislead projects and companies.
・Industry advertisement agents have short-time approach to list down franchise items such as pricing. However agents does not accustomed with franchise framework modeling and strategic approach.
Steps
【Understand current status, Quantitative analysis】
・Visit stores
・Share and understand B/S and P/L
・Create store development standard
*NDA, Advisory contract
【Standardize store operation, Refining】
・Refine brand and business from marketing perspective
・Remodel existing business
【Develop franchise products】
・Pricing
・Franchiser service level and organization
【Plan franchise store development】
・Select franchisee development companies
・Select advertisement
・Establish franchisee operation